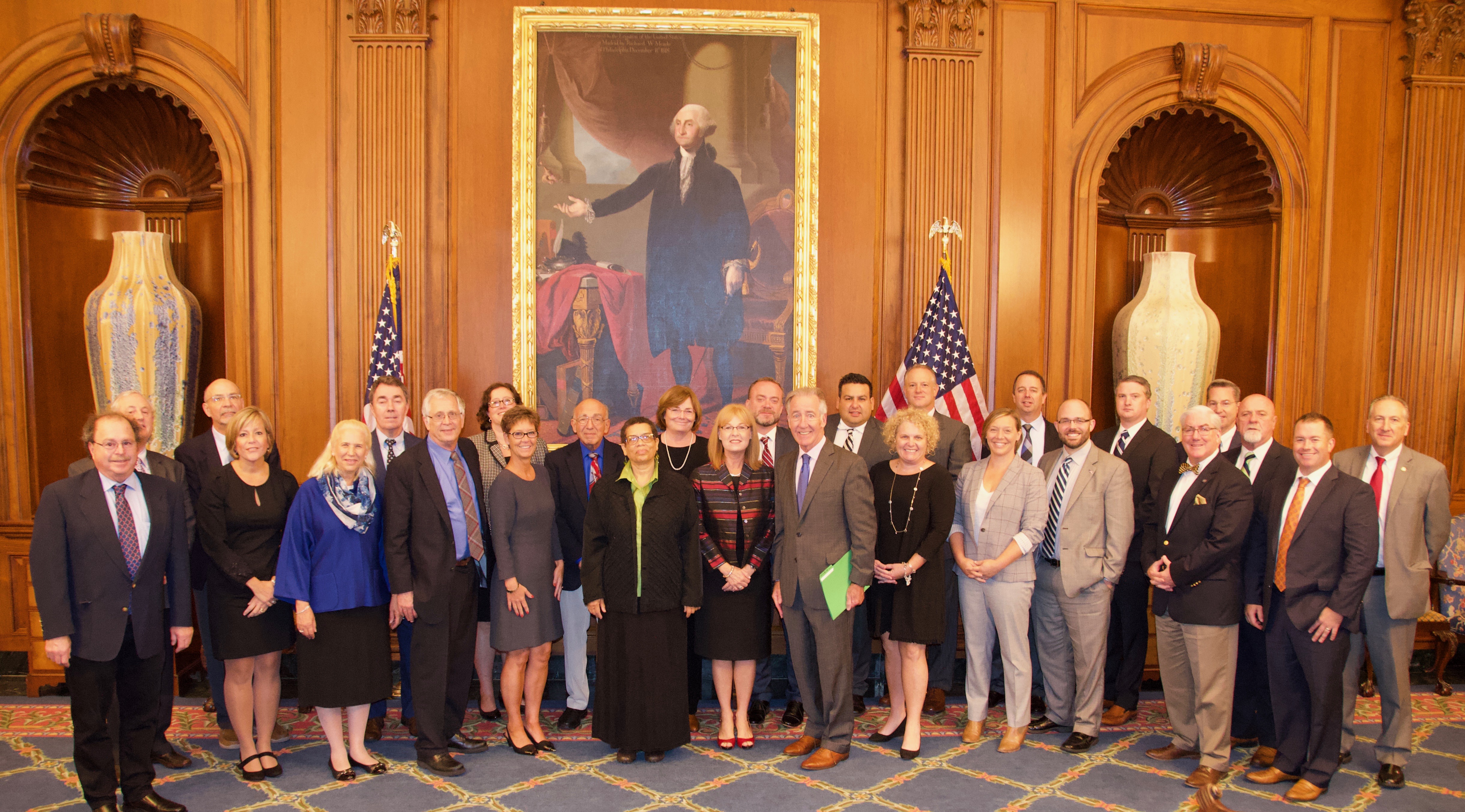 Congressman Neal Welcomes Regional Chambers of Commerce Members to Capitol Hill
Congressman Neal Welcomes Regional Chambers of Commerce Members to Capitol Hill
(WASHINGTON) Congressman Richard E. Neal hosted his annual "Washington Symposium" this week for regional Chambers of Commerce where nearly 40 participants from western and central Massachusetts had an opportunity to meet with a bipartisan group of lawmakers and journalists about currents events in Washington, D.C. The group from the local community represented a wide range of interests including health care, insurance, telecommunication, education and real estate. The trip was presented by the Springfield Regional Chamber in partnership with 1Berkshire, Franklin County Chamber of Commerce, Chamber of Central Mass and the Worcester Regional Chamber of Commerce.
During their visit to Capitol Hill, the group heard from a bipartisan group of speakers including Senator Elizabeth Warren, Senator Edward Markey, House Democratic Leader Nancy Pelosi, House Ways and Means Committee Chairman Kevin Brady, Representative John Lewis, Representative Katherine Clark, Representative Luis Gutierrez, Representative Joe Kennedy, New York Times Chief Washington Correspondent Carl Hulse and PBS Commentator Mark Shields. Their visit ended with a breakfast in the Library of Congress with the Irish Ambassador to the United States Daniel Mulhall.
"It's always a great pleasure to welcome our local business leaders to Capitol Hill and give them an opportunity to meet with a bipartisan group of decision makers in Washington. The annual visit gives them a unique perspective on the legislative process and a chance to see firsthand how Congress really works. I thought the group this year got a chance to talk and ask questions with some of the leading figures in American politics today. I want to thank the members of our regional Chambers of Commerce for their participation, and I look forward to hosting them again in the future for another productive visit," said Congressman Richard E. Neal.
"On behalf of the local Chambers of Commerce, I want to thank Congressman Neal for putting together another extraordinary Washington Symposium for our regional business stakeholders. We feel these annual visits to Capitol Hill are informative, enjoyable and enormously helpful. It is also impressive to see how so many of Congressman Neal's colleagues on both sides of the aisle hold him in such high regard. I would strongly encourage community leaders from across western and central Massachusetts to attend one of these impressive programs in our nation's capital," said Nancy Creed, President, Springfield Regional Chamber of Commerce.