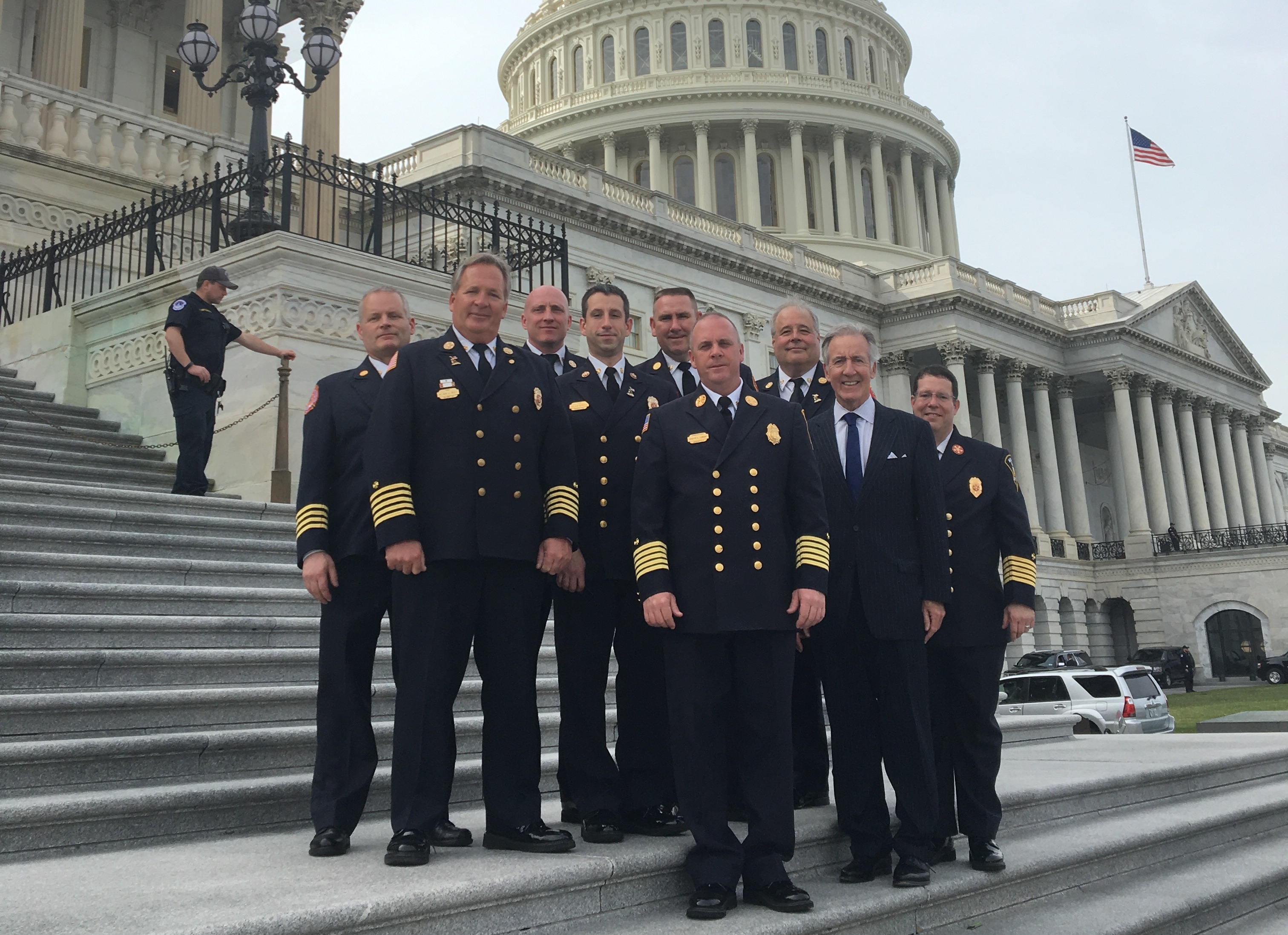 Mass. Lawmakers Announce Nearly $3.1 Million in Grants to Aid Massachusetts Fire Departments
Mass. Lawmakers Announce Nearly $3.1 Million in Grants to Aid Massachusetts Fire Departments
Boston, MA - United States Senators Elizabeth Warren (D-MA) and Edward J. Markey (D-MA), along with Representatives Richard E. Neal (D-MA-01), William Keating (D-MA-09), Joseph P. Kennedy III (D-MA-04), Seth Moulton (D-MA-06) and Lori Trahan (D-MA-03), announced today that the Federal Emergency Management Agency (FEMA) has awarded 23 fire departments in Massachusetts approximately $3.1 million in federal grants.
The funding, which was awarded through FEMA's Assistance to Firefighter Grants (AFG) program, will help provide the critical resources required to train and equip emergency personnel in order to meet official standards, increase efficiency and interoperability, and help make departments and the communities they serve more resilient.
The FEMA fire grants awarded today to Massachusetts fire departments include:
$704,510 to the Boston Fire Department for wellness and fitness activities, including a firefighter cancer-screening program.
$382,200 to the Holyoke Fire Department for a firefighter breathing apparatus.
$227,316 to the Amesbury Fire Department - a regional grant with Salisbury, MA for Emergency Vehicle Operator training and Firefighter safety training.
$224,696 to the Lee Fire Department for 24 firefighter breathing apparatus and 10 automatic cardiac defibrillators.
$177,214.54 to the Yarmouth Fire Department for firefighter protective clothing.
$172,646 to the Hingham Fire Department - a regional grant with Norwell, Hull, Cohasset, Scituate for Emergency Vehicle Operator training.
$156,650.47 to the Barnstable Fire Department for portable and mobile radios.
$155,057 to the Wilbraham Fire Department for 22 firefighter breathing apparatus and 3 breathing apparatus facepieces.
$146,327 to the Brookline Fire Department for fire instructor training.
$128,605 to the Hyannis Fire District - a regional grant award with 20 Cape Cod fire departments for firefighter safety and survival training.
$95,238 to the Medway Fire Department for a fire sprinkler system at Fire Station 1.
$85,718 to the Canton Fire Department for firefighter safety and survival training.
$77,047 to the Somerville Fire Department for Mass Casualty - Active Shooter training.
$64,076 to the West Bridgewater Fire Department for a fire station diesel exhaust system.
$58,514 to the Stoughton Fire Department for Mass Casualty - Active Shooter training.
$53,121 to the Somerset Fire Department for firefighter personal escape devices and firefighter safety and survival training.
$50,857 to the Hyannis Fire District for a firefighter wellness & fitness program.
$36,190 to the Marblehead Fore Department for diesel exhaust systems in two fire stations.
$28,515 to the Truro Fire Department for thermal imaging cameras.
$21,320 to the Onset Fire/Water District in Wareham, MA for mobile and portable radios.
$18,452.72 to the Bridgewater Fire Department for firefighter wellness and fitness screenings.
$6,666.66 to the Maynard Fire Department for firefighter breathing apparatus facepieces and training.
$9,143 to the Bedford Fire Department for Mass Casualty - Active Shooter training.
"Our firefighters across the Commonwealth, who risk their lives every day to protect our communities, deserve our full support," said Senator Elizabeth Warren. "This federal funding will help our courageous first responders by providing them with the resources they need to carry out their mission and continue keeping our families safe."
"Massachusetts firefighters are the front lines of ensuring the safety and security of our Massachusetts communities, and these new FEMA AFG grants will enhance their ability to do so," said Senator Ed Markey. "Our firefighters are hometown heroes, but heroes also need help. These important federal grants will help ensure these first responders are safe while on the job and can efficiently and effectively protect the residents of our cities and towns."
"Congratulations to the fire departments in Holyoke, Lee and Wilbraham for their successful grant applications," said Congressman Richard E. Neal. "With the acquisition of these funds, each department will be able to add more life-saving devices to their fleets, ensuring both firefighter and civilian safety when a call comes in."
"We all know how critical these firefighter grants are to the safety of our communities, their citizens, and our first responders," said Congressman Bill Keating. "And these recently released grants will provide the Yarmouth and Barnstable fire departments with the necessary protective equipment to continue their service to Cape Cod. I congratulate both departments on these grants and always stand ready to help our first responders - the men and women who risk everything to help the rest of us."
"More than just bravery and courage, firefighters are defined by a selfless, unconditional commitment to keep their neighbors safe," said Congressman Joe Kennedy III. "As our Commonwealth's firefighters work day and night to protect us, this grant funding will enhance and modernize the training and equipment necessary to protect them."
"I know what it's like to go into harm's way without the right equipment, like in those days in Iraq when we didn't have the right armor for ourselves or our trucks. We should expect better for the firefighters in our community," Congressman Seth Moulton said. "I'm glad these FEMA grants have come through, and I'll keep working to make sure firefighters always have the gear and training they need to do their jobs."
"Our first responders put their lives on the line every single day to protect our families, friends, and neighbors. Federal investments in their health and safety are critical. As a result, I will always offer my support for these types of grants," said Congresswoman Lori Trahan. "This AFG grant funding will help provide the necessary resources to equip and train firefighters across the Bay State so they can meet the needs of our communities. I am especially pleased that Maynard, in Massachusetts' 3rd District, is a recipient of this important grant funding."
More information about FEMA's fire grant programs is available here.
###