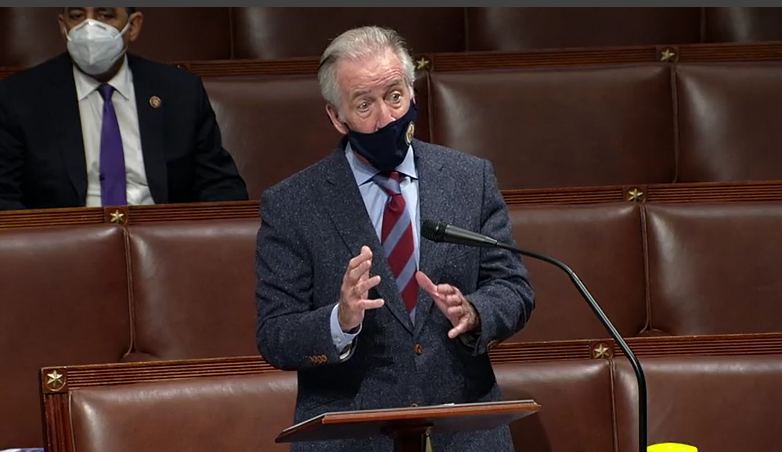 Chairman Neal Floor Statement on he COVID-19 Relief and Omnibus Spending Agreement
Chairman Neal Floor Statement on he COVID-19 Relief and Omnibus Spending Agreement
(As Prepared for Delivery)
After long, intense negotiations, we are finally here today with relief in sight for the American people.
This agreement isn't perfect, but it will offer struggling workers, families, and business with some immediate support.
Americans are suffering, wondering how they'll afford to put food on the table and stay in their homes.
Democrats understand that folks are in extraordinary crisis, so we fought to make sure this package includes urgently-needed relief provisions.  
As with previous COVID legislation, the Ways and Means Committee contributed several of the most crucial measures in today's bill.
We included 11 weeks of $300 per-week emergency unemployment benefits, as well as an extension of pandemic-related unemployment assistance that's otherwise set to cut off in the coming days.
Importantly, there are new protections for individuals who received pandemic-related benefit overpayments through no fault of their own and are now unable to repay the funds.
Folks in need will also receive a second round of direct payments. These $600 checks are not as robust as we would have liked, but they will help Americans bridge the gap until we can provide further relief.
I'm pleased that we expanded eligibility for this round of checks to include people in some mixed-status families. In situations where one spouse does not have a Social Security number, the other eligible spouse and children will not be denied their direct payments, as they were under the CARES Act.
What's more, the eligible spouse and children in these families will also be able to claim the first round of payments they initially missed out on when they file their 2020 taxes.   
We put more money in the pockets of working families by providing greater flexibility for those who are eligible to claim the Earned Income Tax Credit and the Additional Child Tax Credit.
An expanded Employee Retention Tax Credit and the deductibility of expenses paid for using PPP loans will both incentivize the hiring and retention of workers.
Ways and Means Democrats also made sure that the legislation includes key provisions that will help us combat the public health emergency and save lives. There are important protections for American seniors, and critical support for health care providers.
As I've said all along, until we effectively address the virus and people are safe, our economy cannot fully recover.
And I am extremely pleased that the package contains our bipartisan, bicameral agreement to protect patients from surprise medical bills – this is particularly crucial as the pandemic continues to spread and thrust Americans into unexpected health and financial peril.
One other bipartisan Ways and Means addition is emergency help for vulnerable foster youth, many of whom are struggling or at risk of homelessness during the pandemic. Committee Democrats and Republicans worked hand in hand to secure that support.
I'm relieved that after so many months of refusing to negotiate with us, Senate Republicans finally came to the table and we've reached this deal. They wouldn't even hold votes on the two versions of the Heroes Act that the House passed earlier this year. They are responsible for the terrible delay in additional relief being provided to those in need.
While today's agreement is an important step in the short-term, more must be done as the pandemic continues to grip the nation and the COVID recession persists.
Congress will need to pass additional, substantial relief and stimulus legislation in 2021. Big investments must be made to create jobs, support families, and ensure states and localities have the resources necessary to continue providing essential services and distribute vaccines quickly and fairly.
Any Republican calls for austerity in the 117th Congress would be a dangerous attack on the future of our economy and the wellbeing of Americans in communities across the country.
I urge my colleagues to vote in favor of this vital relief with the clear understanding that this is a starting point, not the end of our work. I yield back the remainder of my time, thank you.