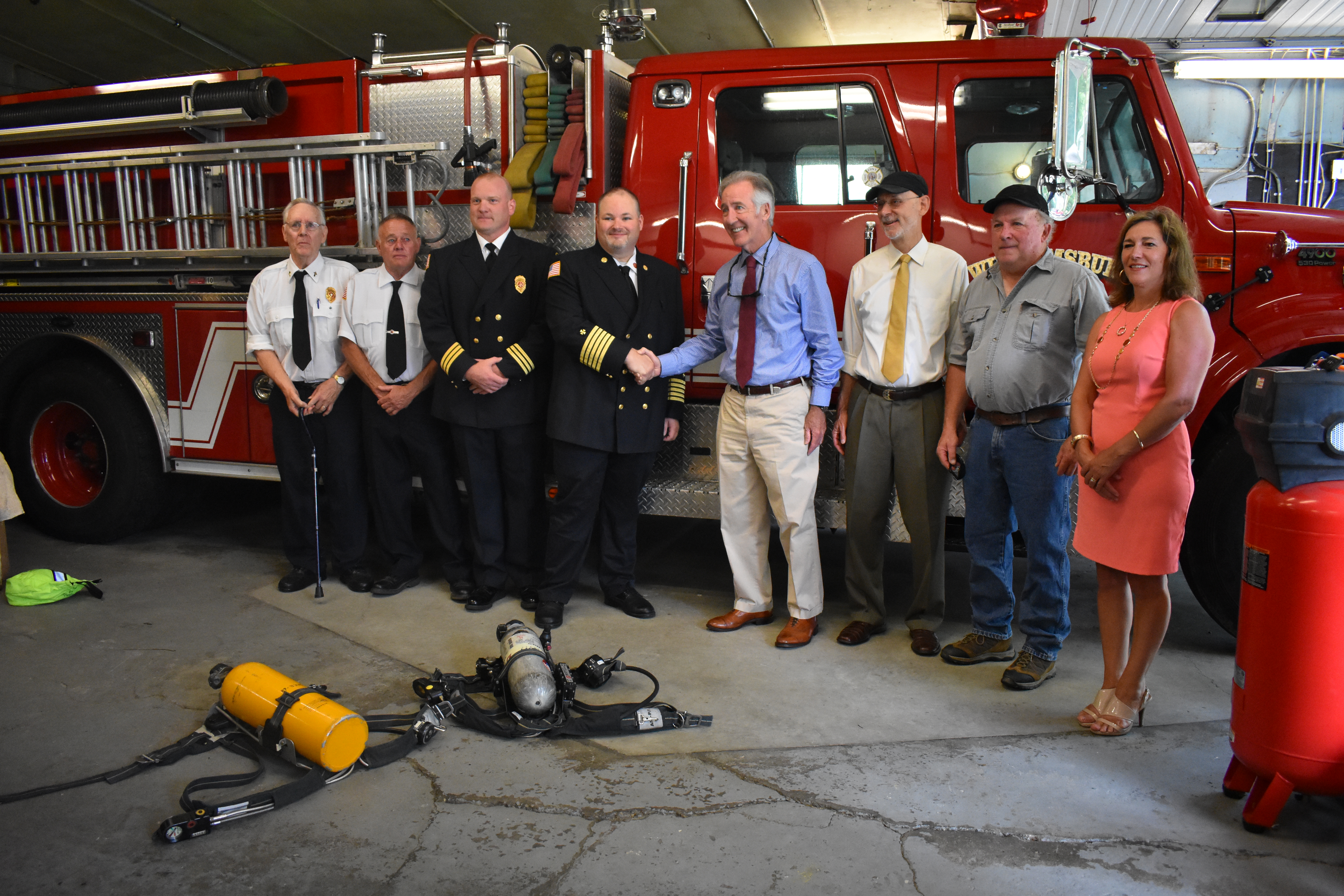 Neal Announces $45,623 for Williamsburg Fire Department
Neal Announces $45,623 for Williamsburg Fire Department
Williamsburg, MA – United States Congressman Richard E. Neal visited the Williamsburg Fire Department Thursday to deliver a $45,623 grant from the Department of Homeland Security's Assistance to Firefighters Grant (AFG) program. Congressman Neal was joined by Fire Chief Jason A. Connell, Town Administrator Charlene Nardi, and other town officials at the station for the announcement. 
The Williamsburg Fire Department will be able to purchase six self-contained breathing apparatus (SCBA), twelve air bottles and personal masks for each firefighter with this funding.
"Congratulations to the Williamsburg Fire Department for being awarded this grant," said Congressman Neal. "These grants are highly competitive and judged by former firefighters and fire officials. With the acquisition of this new equipment, the call/volunteer department will be able to confidently provide the community with reliable emergency service in any situation."
"The Williamsburg Fire Department is grateful to department member, Firefighter Shawna Rogers and grant writer Lisa Sihvonen-Binder of Cricklewood consulting for preparing and reviewing the grant over a month-long process," said Chief Connell. "We would also like to thank the Williamsburg Firefighters Association for providing funding and support for this grant. Without the continued support of the association, equipment like this would come at a greater cost to the taxpayers of the town of Williamsburg. In closing we would like to acknowledge the support of the Williamsburg Selectboard, Senator Elizabeth Warren, Senator Edward Markey, State Senator Adam Hines, and Congressman Richard Neal."
According to Chief Connell, the grant covers 95% of the total estimated cost for the SCBAs and masks. The remaining 5% will be covered by the Williamsburg Firefighters Association, which leaves zero cost to the Town of Williamsburg.
The primary goal of the AFG program is to "enhance the safety of the public and firefighters with respect to fire-related hazards by providing direct financial assistance to eligible fire departments, nonaffiliated Emergency Medical Services organizations, and State Fire Training Academies. This funding is for critically needed resources to equip and train emergency personnel to recognized standards, enhance operations efficiencies, foster interoperability, and support community resilience."
Congressman Neal also visited the Williamsburg Police Department and the Senior Center.
##