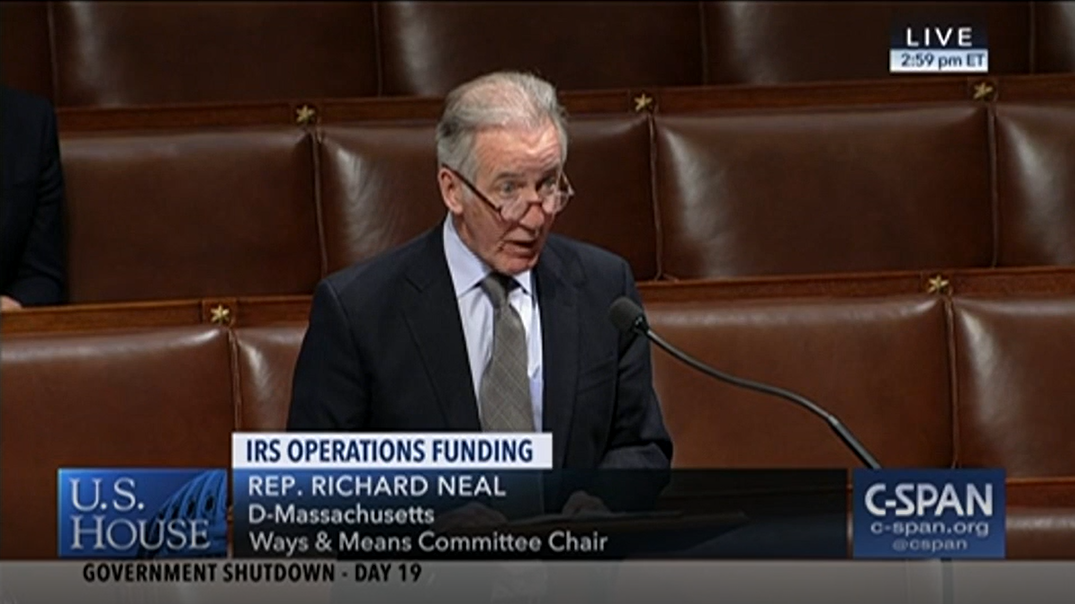 Neal Delivers Floor Remarks in Support of Legislation to Fund the Treasury Department and IRS
Neal Delivers Floor Remarks in Support of Legislation to Fund the Treasury Department and IRS
(As prepared for delivery)
I rise in support of H.R. 264. This bill appropriates desperately needed funds for Treasury and the Internal Revenue Service.  
As the shutdown persists, the financial and emotional drain on employees and taxpayers continues.  There are tens of thousands of furloughed Treasury employees who want to work -- and proudly would do so -- but they cannot.  They also cannot pay bills, cannot afford medical care, and, like us, cannot understand any of this.  Every day that passes and every minute this shutdown continues is too long and too costly.   
I spoke to the Treasury Secretary and IRS Commissioner two days ago regarding the impact of the partial shutdown on the IRS and the tax filing season. 
I was informed that the IRS will release its contingency plan for the tax filing season and issuing refunds in the coming days, which will require a significant number of IRS employees to return to work without pay.  These developments are no substitute for fully funding the government and reopening these agencies.
Madam Speaker, we do not know the full damage and cost of this shutdown, but we do know we must end it before any more damage is done.  If a taxpayer calls the IRS today for assistance, the recording says "Live telephone assistance is not available at this time.  Normal operations will resume as soon as possible."  I say that time is now.  The time has come for my colleagues on both sides of the aisle to stand up, vote "yes," and fully re-open these agencies.
Thank you. I yield back the balance of my time.
###