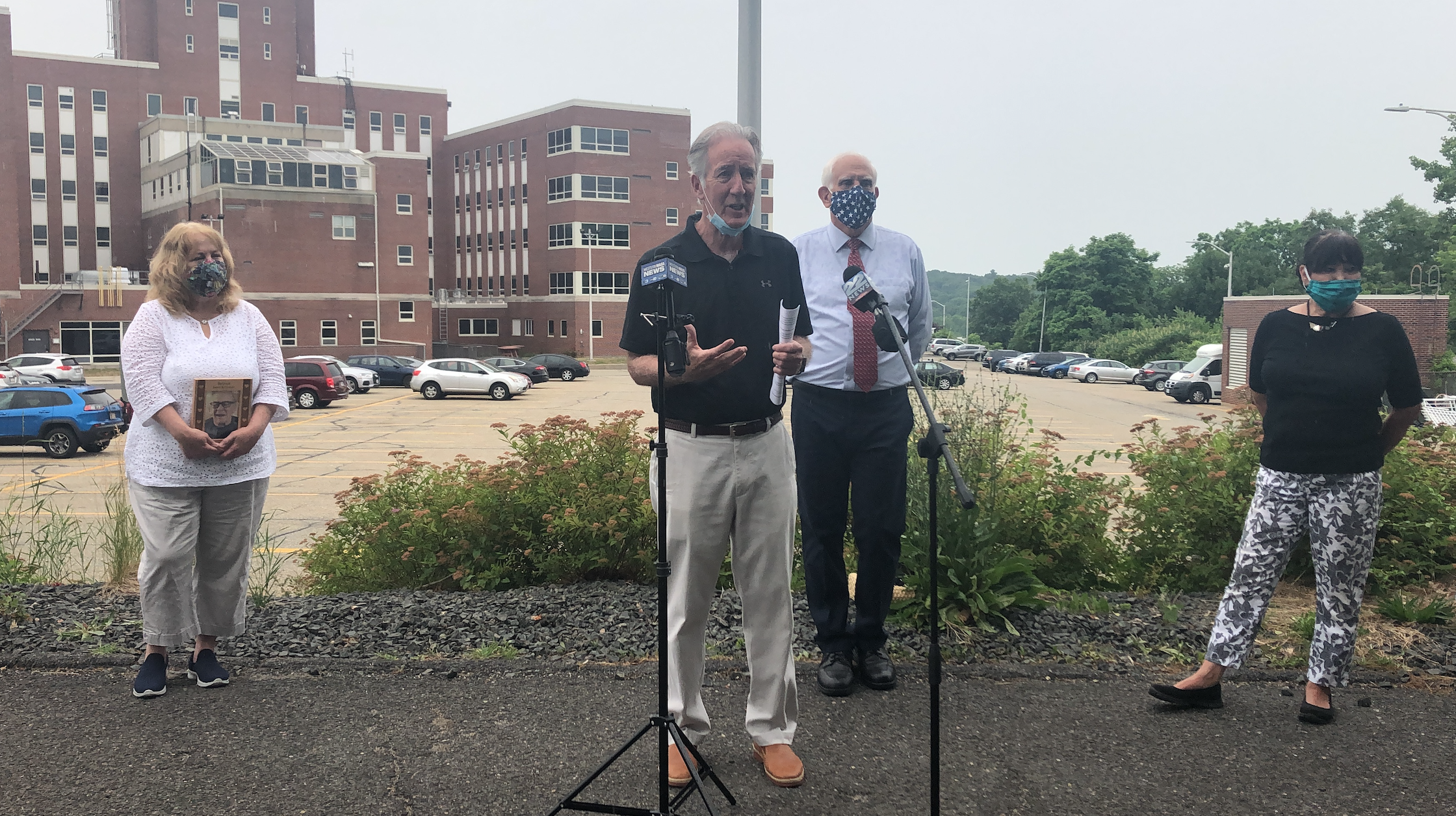 Neal Joins Former Superintendent of Holyoke Soldiers' Home to Discuss Future Plans for the Facility
Neal Joins Former Superintendent of Holyoke Soldiers' Home to Discuss Future Plans for the Facility
Accompanied by family members of current and former residents for their input on how to move forward
Holyoke, MA – Today, Congressman Richard E. Neal joined with former Superintendent of the Holyoke Soldiers' Home Paul Barabani, and family members of both current and former Soldiers' Home residents for a press conference supporting changes at the facility.
"The proposals that we are speaking about today regarding the renovations for the future of the Holyoke Soldiers' Home are critical given the terrible tragedy of 76 veterans losing their lives due to the coronavirus outbreak here," said Congressman Neal, who mentioned that his uncle Robert Garvey, a resident of the Home, was diagnosed with the disease but recovered. "I am thankful to the families who joined me today and for their advocacy. I am also thankful to the nursing staff at the Home who continue to provide great care to the residents. But, we need regional equity. What is about to happen with the investments at Chelsea Soldiers' Home also needs to be consistent with what is being proposed here, and while this is a state facility, I intend to offer whatever assistance I can from the federal level."
Barabani spoke on behalf of the Coalition who have outlined three initiatives for the Home moving forward that Congressman Neal enthusiastically supports. Those include:
Renovation: all rooms be in full compliance with VA and UFAS standards, and include a private toilet and shower in each room.
Adult Day Health Care facility
A Voice for Western Mass: Input from elected officials, veterans, veterans organizations, families of residents and former residents of the Soldiers' Home, and interested citizens of western Massachusetts.
"As a representative of the Holyoke Soldiers' Home Coalition, we are grateful for Congressman Neal's support," said Barabani. "During my tenure as Superintendent of the Home, I not only went to Congressman Neal for his influence in this one building but for nursing homes and veterans' homes throughout the nation. We do not want to understate his importance to veterans across our country."
Laurie Manderville-Boudette, whose father James Manderville a resident at the Home for sixteen years, passed away from COVID-19 after being transferred to Holyoke Medical Center said, "We appreciate Governor Baker's proposed reforms but the family members are strongly urging the Governor to have an outreach effort to get feedback from family members and other veterans' agencies. Having a new facility would be the best memorial to my dad and the other veterans who lost their lives."
Roberta Twining spoke about her husband, who is a resident at the Home. She said, "My husband, Tim, has been a resident here for about two and a half years and he receives wonderful care. While he was diagnosed with COVID-19, he has recovered thanks in large part to the wonderful staff. I also cannot understate the importance of the National Guard and the amazing care that they provided during this time. We are moving in the right direction with the help of Mr. Barabani and Congressman Neal."
This press conference came on the heels of an independent report released earlier this week by the State of Massachusetts that acknowledged lack of staffing and quality issues in the Home led to the explosion of cases and deaths of veterans living there. Congressman Neal has been vocal in his support of the Home and spoke about it during a Ways and Means Health Subcommittee Hearing earlier this week in Washington. His remarks from Thursday can be found HERE.
##