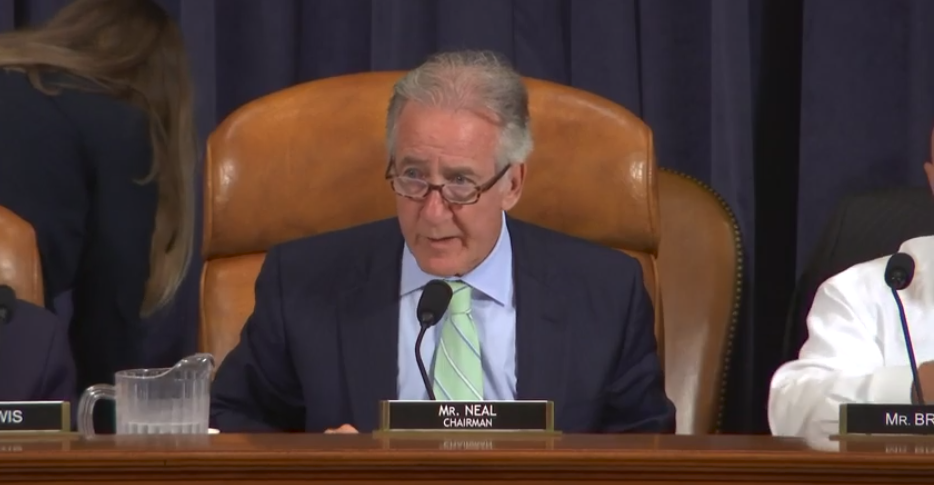 Neal Opening Statement at Markup of Multiemployer Pensions Legislation
Neal Opening Statement at Markup of Multiemployer Pensions Legislation
(As prepared for delivery)
Thank you to everyone for being here. Today we meet to consider H.R 397, the Rehabilitation for Multiemployer Pensions Act – commonly referred to as the Butch Lewis Act. 
About 10 million Americans participate in multiemployer plans and about 1.3 million of them are in plans that are quickly running out of money. 
This is not just a statistic. These are American workers who planned for their retirement and now after working for 30-plus years, they are facing financial uncertainty at a time when they are often unable to return to the workforce.
We are in the midst of a crisis, but for years we have failed to do anything to stop it.  I have heard that my Senate colleagues are talking about ideas, but we still haven't seen a single proposal.  We even had a multiemployer select committee that met for almost a year, but its leadership failed to reach a deal.
Today – with the consideration of the Butch Lewis Act – we are finally taking action for hardworking Americans. The Butch Lewis Act is the only game in town and it's the winning one.    
Retirement income is referred to by many as a three-legged stool: Social Security, employer-sponsored retirement plans, and personal savings. 
Fortunately, Americans can count on their Social Security benefits. However, these days, two of the other legs of the stool are pretty shaky. And the reality is that with an average monthly benefit of $1,400 – and an annual benefit of less than $17,000 a year, it's clear that people need more than just Social Security to live on. 
For many retirees, the multiemployer pensions crisis is contributing to the instability of these three-legged stools. These are American workers who planned for their retirement.  People who chose year after year to contribute to their pensions instead of taking a wage increase.
It's worth noting that we haven't arrived here through any sort of malfeasance. Most employers that contribute to multiemployer plans are trying to do the right thing by their workers. But deregulation in the 1980s and 1990s, as well as large scale economic downturns in 2001 and 2008, led to waves of industry-wide employer insolvencies. And the remaining employers in these plans are now the "last man standing" in their respective multiemployer plans. 
The story of Spangler Candy Company, which is a family owned confectionery manufacturer based in Ohio, always sticks with me. They make the Dum Dums Lollipops.  And according to their president, their contribution rate to their multiemployer pension plan has nearly doubled in the past ten years. And 54 percent of their contribution dollars go to pay benefits of participants who never once worked for Spangler!
We are joined today by workers and retirees who know firsthand about the urgency and importance of this issue. Over a hundred retirees and workers who are impacted by this crisis have travelled to Washington to join us today. These are our neighbors from all over the country. They are scared about losing their pensions and what that would mean for their futures. 
One person in particular who I'd like to recognize is Rita Lewis. Mrs. Lewis is a beneficiary of the Central States Pension Plan, which is the largest of the underfunded multiemployer pension plans. 
Mrs. Lewis' husband, Butch Lewis, who my bill is named in honor of, drove a truck for 40 years for USF Holland.  Tragically, Mr. Lewis died a few years ago of a massive stroke.
Mrs. Lewis was looking at about a 40 percent cut to her joint survivor benefit. This after years of hard work and when retirement was finally in sight. 
Sadly, many workers and retirees have stories similar to Mrs. Lewis' story.  I know many in our audience today are at risk of similar benefit cuts.
And so, I'd like to thank all of our guests for being here today and shining a light on this growing crisis. 
The Butch Lewis Act would give the millions of workers and retirees like those in our audience today the security that the retirement that they worked and planned for will be there in their golden years.  
The Butch Lewis Act would allow pension plans to borrow the money they need to remain solvent and continue providing retirement security for retirees and workers for decades to come. The money for the loans and the cost of running the program would come from the sale of Treasury-issued bonds to financial institutions. The Treasury Department would sell the bonds in the open market to large investors, such as financial firms – and then lend the money from the sale of the bonds to the financially troubled pension plans.
This idea of a loan program is a common-sense solution. It's the private sector coming together with the public sector to address this crisis. 
It's time to stop talking about this issue and actually do something about it. Further inaction means American workers will remain at risk of slipping into poverty in retirement - even though they put aside their hard-earned money for decades to ensure they would have a pension in retirement. 
I am hopeful that my colleagues on both sides of the aisle recognize the gravity and urgency of this issue and will join me in supporting the Butch Lewis Act.
And with that I would recognize the Ranking Member, Mr. Brady for purposes of an opening statement.
###