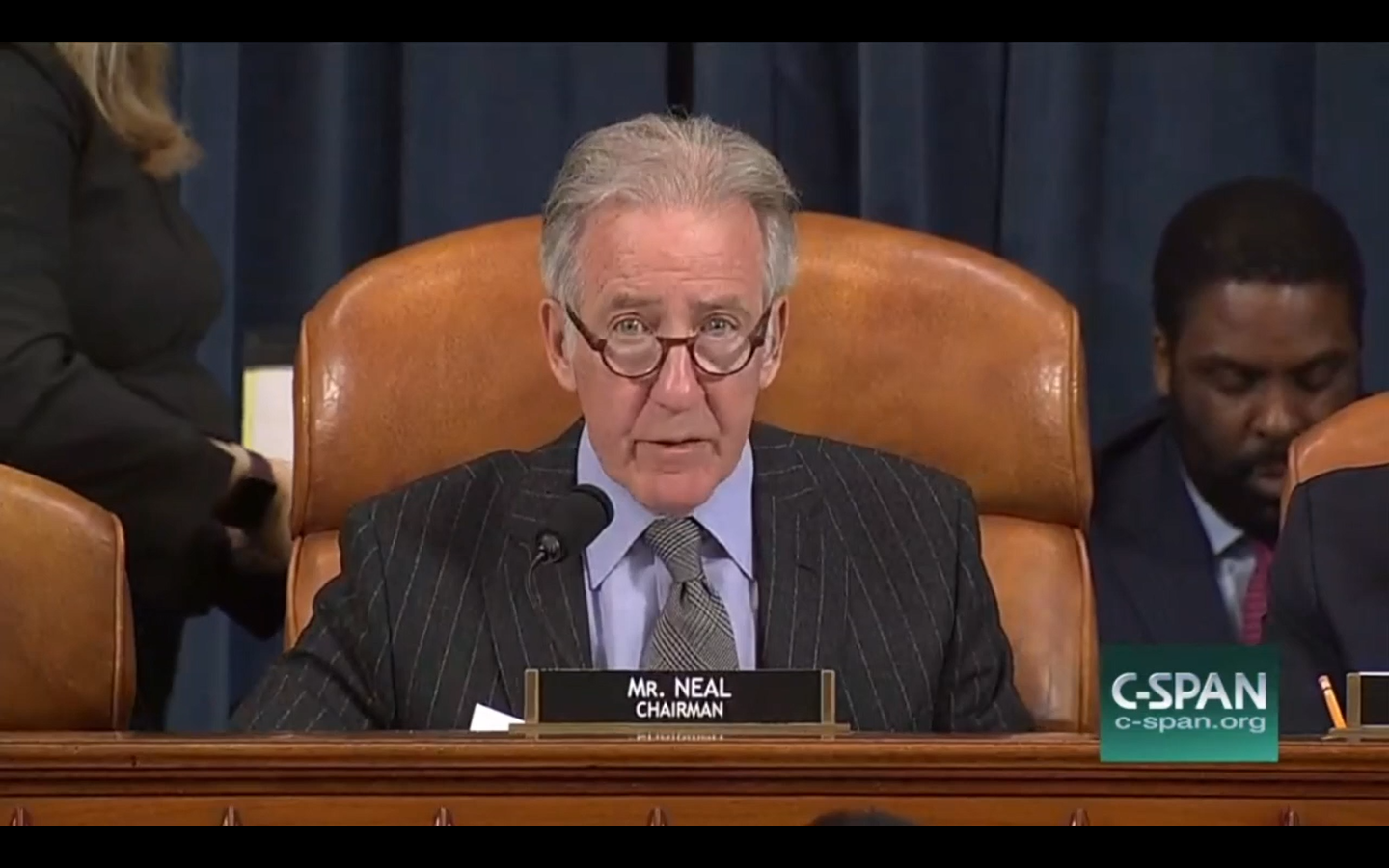 Neal Opening Statement at Markup of Views and Estimates Letter
Neal Opening Statement at Markup of Views and Estimates Letter
(As prepared for delivery)
Good morning.  We meet today to consider the Committee's annual budget views and estimates for fiscal year 2020 in accordance with the requirements of section 301(d) of the Congressional Budget Act of 1974 and rule x, clause 4(f).
This document will help ensure that the Budget Committee is fully able to accommodate our Committee's priorities within the overall congressional budget resolution.
I want to thank Ranking Member Brady for working with me on this document so that we are able to submit a consensus document to the Budget Committee that reflects the priorities of the Ways and Means Committee as a whole.  While we certainly will have our policy differences in many areas, I think it is important that we find common ground on institutional matters such as this.
Our Committee has important work ahead of us to address needs of American families. Hardworking American families have been falling behind despite strong economic growth, and it is our job to make sure that the middle class and those working to climb into the middle class have a level playing field and real opportunities to get ahead.
To accomplish this goal, the Committee will consider trade and tax legislation that will benefit middle-income Americans and small businesses. Our policies will address the challenges presented by stagnant wages in the face of the rising cost of basic necessities like housing, health care, and education.
We will work to build on the Affordable Care Act's success in expanding access to affordable health care for everyone, including those with pre-existing conditions, and address barriers to health care like high prescription drug costs and surprise medical billing.
We will continue to protect Medicare and Social Security, to ensure that they remain the foundation of economic security for retirees and for families that lose a breadwinner to death or a severe disability.  And we will advance legislation to help all Americans achieve a more secure retirement.
We will tackle the structural barriers that are preventing many Americans from reaching the middle class – things like lack of affordable child care and paid family and medical leave, skills gaps, and the cost to our country of so many children growing up in poverty.
Before I close, I do want to take a moment to acknowledge that this year's budget process will be particularly challenging. In addition to a significant drop in revenue caused by the GOP tax bill, the recent partial government shutdown had a negative effect on GDP, which may affect revenue and significantly disrupt tax filing season.  We also cannot lose sight of the economic damage caused by the shutdown - the disruption of services to individuals, farmers, and businesses, and the threat of financial ruin for hard-working federal employees and contractors will likely have long term effects.
I look forward to working with my colleagues at the Budget Committee to craft a budget that supports our Committee's work, and the other work this Congress must do for the American people.
With that, I turn it over to Ranking Member Brady for his opening statement.
###